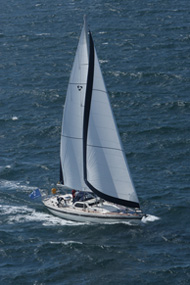 Tayana T58 under full sail
Luxury and Performance, horizon to horizon
Imagine a serious cruising yacht, at an achievable price, custom built by hand, around a proven and well respected ocean-going hull, with a fit-out and rig perfectly suited to your requirements.
Now step below deck; everything from the exotic solid wood finish to the air conditioning is just as you would have it! The comfort, the space, the stability, the quality of craftsmanship & the attention to detail make Tayana yachts an ocean ahead of those on the production line, whilst bridging the gap for what most of us would call an impossible dream.
It's the kind of boat that once you own one, you'll stop looking at others! Maybe sail around the world & write a book like the proud owners of a Tayana 55!
Tayana Yachts brings your ultimate aspiration into reality with their range of customised, ocean cruising yachts from 48' to 72'.
Your Flash Plugin or Javascript is Switched Off!!!
You are unable to view the dynamic content here without the Flash plugin or with Javascript turned off.