If your dreams lie over the horizon, the Tayana 48 can take you there in absolute safety, luxurious comfort and timeless style. As an ocean passage maker , the Tayana 48 is appreciated by many as the ideal sized cruising yacht, easily sailed by a couple or comfortably crewed with a group of adventure loving friends. Underway, the Tayana 48's attractive and proven hull lines, combined with an efficient cutter rig, provide pace aplenty. Inside the spacious saloon, smooth ocean cruising is made even more enjoyable with all the comforts of home.
Your Flash Plugin or Javascript is Switched Off!!!
You are unable to view the dynamic content here without the Flash plugin or with Javascript turned off.
Customise your Very own Tayana 48
Retrieve your saved options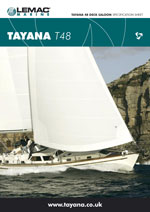 If you would like to have a copy of the information provided to browse at your own leisure, then please download our PDF Brochures.
If you are having trouble opening our brochure, it could be that you do not have Adobe Acrobat installed. To get Adobe Acrobat Reader so that you can read Adobe PDF files on your desktop or on the Web.
click here to download Adobe Acrobat