Picture a beautiful blue ocean. Trade winds are blowing and you're at the helm of the most fantastic yacht you've ever sailed. It's a 55ft Tayana, your reward to yourself and your family for a lifetime of reaching goals one step at a time. Now it's time to take the big step and reach out over the ocean to explore remote archipelagos and discover your own tropical paradise. Own a Tayana 55 and you'll enjoy new levels of confidence in your yacht's strength and all weather performance while making passages a pleasure for everyone on board, from the serious sailor to the holiday guest alike.
Your Flash Plugin or Javascript is Switched Off!!!
You are unable to view the dynamic content here without the Flash plugin or with Javascript turned off.
Customise your Very own Tayana 55
Retrieve your saved options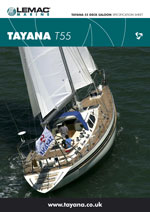 If you would like to have a copy of the information provided to browse at your own leisure, then please download our PDF Brochures.
If you are having trouble opening our brochure, it could be that you do not have Adobe Acrobat installed. To get Adobe Acrobat Reader so that you can read Adobe PDF files on your desktop or on the Web.
click here to download Adobe Acrobat