If you appreciate state of the art voyaging, your destination is the Tayana 64. Once aboard, the world is yours to roam. With tayana the ocean becomes your adventure playground.. and what better yacht to experience new horizons than the superb new Tayana 64.
Your Flash Plugin or Javascript is Switched Off!!!
You are unable to view the dynamic content here without the Flash plugin or with Javascript turned off.
Generator
Air conditioning
Ice maker
Dish washer
Washer dryer
Bow thruster
Foot pump
Deck wash down
Water maker
Teak deck
Mast/sails
Customise your Very own Tayana 64
Retrieve your saved options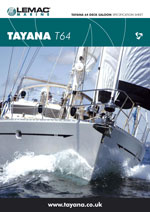 If you would like to have a copy of the information provided to browse at your own leisure, then please download our PDF Brochures.
If you are having trouble opening our brochure, it could be that you do not have Adobe Acrobat installed. To get Adobe Acrobat Reader so that you can read Adobe PDF files on your desktop or on the Web.
click here to download Adobe Acrobat